Nurturing the Early Years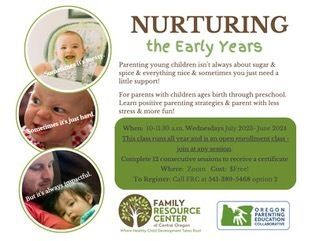 Central Oregon parents with children from birth through preschool. Learn positive parenting strategies and parent with less stress and more FUN!
Fulfills mandated client requirement.
This is an ongoing class, meaning you can join at any session. After 12 consecutive sessions, you'll receive a certificate.
Cost: $Free
Call to register & get started!
We support families thanks to generous support from our partners
OPEC

Oregon Community Foundatioin